Three things are required if you plan on making money with Adsense:
Traffic
,
Positioning
, and
Relevancy
. Since Traffic was covered in the first lesson, this lesson will focus on Positioning ads.
Google compiled their research of which ads receive the most click and has come up with this chart:
The colors fade from dark orange (strongest performance) to light yellow (weakest performance). All other things being equal, ad placements above the fold tend to perform better than those below the fold. Ads placed near rich content and navigational aids usually do well because users are focused on those areas of a page.
I now arrive at a bit of a controversy. Color of ads. Some people, like myself, like to blend to ads in with their site. Other's like to have their ads stand out on their site. Ex:
Blending Ads

Standout Ads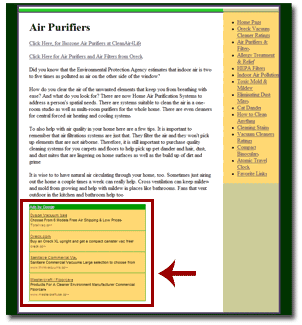 If you want your site to look attractive then go with ads that blend in.
Did you like this article ?
Subscribe
to my
RSS
feed and get more blogging tips, Plus a lot more great advice to help your blog.
No Comment
| Tags »
Adsense Tips